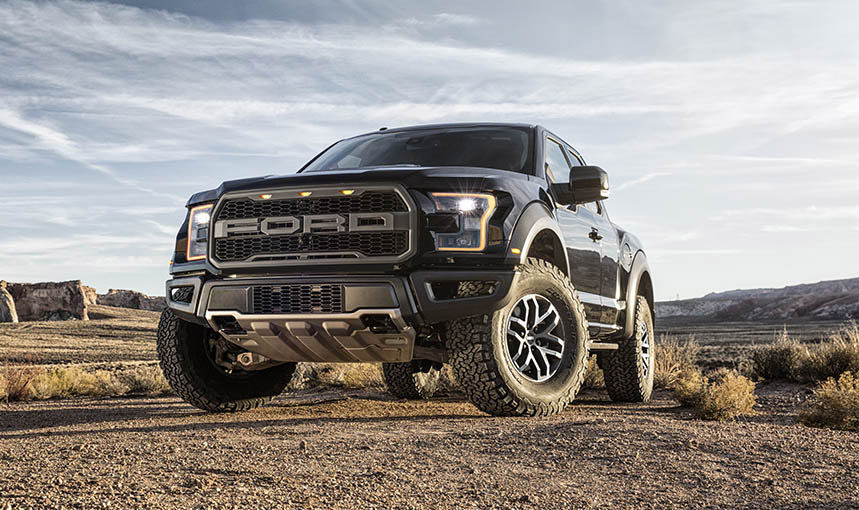 The ultimate off-road predator is here – and it's a Ford. In 2010, the Ford F-150 Raptor throttled upward through the sands of the Baja 1000 desert race, setting the bar for high-performance and exclusive badassery. Designed by the Ford Special Vehicle Team, the re-forging of the 2017 F-150 Raptor will see a lighter, more visceral powerhouse with plenty of state-of-the-art features for reinforced debauchery.
What's even better is that you can get a base model starting at $50,000 and the fully-loaded SuperCrews for right around $60,000. Let's get in the cage with the beast and see what makes it roar.
Choose Your Own Adventure with the 2017 Ford F-150 Raptor
Apparently, the 2017 Ford F-150 Raptor is built to survive the apocalypse, according to Autotrader. From tailgate to front fascia, there's nothing about the Raptor that doesn't excite.
Lighter. Meaner. Faster.
Don't let the lighter weight fool you. It just makes it leaner, quicker, more…well…more raptor-like. The newly reinforced aluminum body sheds off 500 lbs off the build, despite a thicker frame, proving once again that cardio is king.
Adding to the shredded frame is a new four-wheel-drive TORQUE-ON-DEMAND transfer case, and an available TORSEN front differential, giving you some of the smoothest, turn-hugging performance you'll find anywhere on the market. Grip the road, and pull yourself up like the ninja warrior you are.
Power. POWER. POWER!!!
It wouldn't be 2017 without a little mad science. Part thunder-lizard, part robot – why not fuel inject your Raptor with incredible power? Ford has performed some psycho-surgery and outfitted the Raptor with a new aluminum block reinforced EcoBoost 3.5-liter V-6 engine with twin turbochargers and direct fuel injection. It's like putting the brain of an eagle in the body of a grizzly bear. That translates into over 450 horsepower and 510 lb-ft of torque.
You also get a 10-speed automatic transmission, four wheel manual mode, and the Terrain Management System that lets you choose from six presets to drive smarter and harder in any landscape. Become the alpha predator at the push of a button.
It's a monster on the inside, too, with technology to last: 360-degree camera, power tailgate, adaptive cruise control, forward-collision prevention, and a blind spot monitor give you total control.
Test Drive a 2017 Ford F-150 Raptor at Stearns Ford in Burlington, NC
Fly harder. Fly farther. Fly faster. We're all itching to power up with the 2017 Ford F-150 Raptor. Why not test-drive your favorite Ford pickups today at Stearns Ford in Burlington, North Carolina. While you're there, get the down-low on what makes the 2017 Ford F-150 Raptor a beast from the best damn Ford enthusiasts in the state. Our Advantage Plan is second to none – and comes packed to the hilt with exclusive offers.
When you're with Stearns Ford, when you expect more, you get more. Call us today at (888) 789-8795.